Why Are Double Hung Replacement Windows a Terrific Choice?
One of our favorite styles of window is the double hung replacement window. They are absolutely beautiful to look at and add great style to your home. These windows are a cost effective choice that provides excellent value for your dollar while saving you tons of money on your monthly energy bills.
At The Window Source of Eastern NC, our custom sized double hung windows move independently on the vertical giving you the ability to open either or both windows for fresh air flow and, thanks to counterweight balancers, they stay where you put them.
Safe and secure, double-hung windows are a great option when you'd like to open your windows for fresh air, plus the easy-to-open sashes allow them to tilt in for easy cleaning.
Available as Standard on All Our Double Hung Replacement Windows:
Our windows provide superior strength and reliable performance during extreme weather conditions.
Both window sashes easily tilt forward for safe cleaning.
All our windows come with a Limited Lifetime Warranty.
With an energy-efficient design, our double hung windows can be fitted with double or triple insulated glass units.
Made from the highest quality vinyl, our windows never need painting.
We custom fit each new replacement window so there are no gaps or drafts.
Unlike wood, our high-quality vinyl components never peel, crack, chip, or warp.
Each double hung replacement window comes with a custom fit screen so you can open your windows without letting in annoying bugs or pests.
To avoid standing water, our unique sloped sill design will quickly drain any moisture away.
Our Most Economical and Budget-Friendly — 3000 Series
Our Series 3000 Double Hung Replacement Windows are a great solution for your home. They offer extreme durability and energy efficiency at a budget-friendly price. These 3000 Series windows have the effortless style and easy maintenance that you find in windows costing much more. Simply put, the Series 3000 window offers extended performance and lifespan at an unbeatable price!
Series 3000 Features
Multi-Chambered 3-1/4 Inch Vinyl Frames
Double-Insulated Glass
Sloped Sill
Warm Spacer System
Extruded Aluminum Half Screens
Energy Star Certified with Low E Glass Available
Stainless Steel Constant Force Balance System
Limited Lifetime Warranty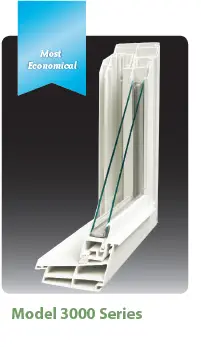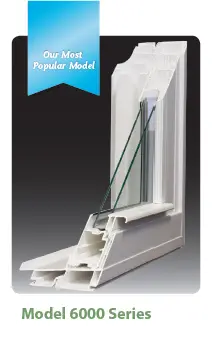 Series 6000 — Our Most Popular Double Hung Window
Here's why these are our most popular windows — our double hung replacement windows feature double-strength glass, plus extra durable vinyl construction and a wider range of color and customization options. These popular windows offer the energy efficiency plus high quality construction that you expect in a custom home window replacement product. Both cost effective and high performing, our double hung window replacements keep your home comfortable any time of year.
Series 6000 Features
Heavy-Duty Multi-Chambered Vinyl Frames
Double-Insulated Glass
Extruded Aluminum Half Screens
Standard White or Four Optional Exterior Colors
Available Glass Breakage Warranty with Double-Strength Glass
Interlocking Meeting Rail
Welded True Slope Sill
Equal Lite Sashes
Optional Frame Insulation
Stainless Steel Constant Force Balance System
Limited Lifetime Warranty
For the Highest Performance — Trust the 9000 Series
When only the best will do — our 9000 Series top-of-the-line double hung replacement windows deliver seamlessly. These windows offer the premier performance, timeless beauty, and full range of customization options that you expect in similarly priced windows.
At The Window Source of Eastern NC, our 9000 Series windows feature ultra-saving energy features like double Low E Coatings, triple glass, and two chambers filled with inert argon gas. In combination, these result in the most energy efficient double hung replacement windows available and when using an Energy Miser 2 glass have a NFRC U-factor rating of .20.
Series 9000 Features
Available with 7/8 inch Triple-Insulated Glass
Optional Foam-Filled Frames That Resist Heat and Cold Transfer
Optional Fiberglass Reinforcement for Added Strength
Insulating Glass Options to Meet ENERGY STAR Guidelines
NFRC U-Factor of .20 with Energy Miser 2 Glass
Heavy-Duty Beveled Frames
Decorative Recessed Locks
Upgrade Lock Options Including Brass, Satin Nickel, and Oil Rubbed Bronze
Heavy-Duty Premium Block and Tackle Balance System
Limited Lifetime Warranty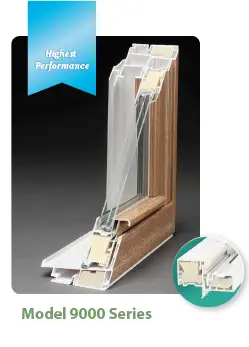 Contact us for a free, no-obligation estimate.