If you're a homeowner in North Carolina, chances are that you may have thought about replacing your windows at some point. The cost of replacing these items can be pricey and many people are unaware of their financing options when it comes to window replacement projects.
This blog post will provide information on Window Replacement Financing Options In North Carolina, so you can make an informed decision about which option is best for you.
We'll discuss the available financing plans with different lenders, as well as the advantages and benefits they offer-bringing one step closer to getting new windows without breaking your budget! So read on to learn more about reinvesting in your home through window replacements with convenient finance solutions!
Financing Options for Window Replacement in North Carolina
Homeowners in North Carolina have access to a variety of financing products depending on their budget, credit score and other factors, such as no interest and no payments for six months, no interest with payments for twelve months or 0% financing.
No Interest and No Payments for 6 months!
North Carolina homeowners, property managers, real estate investors, and commercial property owners now have the unique opportunity to find more financing options for their window replacement projects.
With this exclusive promotion from a trusted provider in North Carolina they can enjoy no interest and no payments for 6 months on their window installation or home improvement project! This offer is subject to qualifying credit approval but allows temporary payment relief while customers get needed updates or improvements done.
Customers can trust that free of charge with 0% financing over a 6 month period without having to pay any finance charges or interest – giving them the chance to manage their budgets accordingly.
No Interest with Payments for 12 Months!
No Interest with Payments for 12 Months! is an attractive financing option for window replacement in North Carolina. This offer provides 12 months of 0% interest and offers customers flexibility in repayment.
Its use can help homeowners, property managers, real estate investors, or commercial property owners save on their costs and ensure timely completion of windows installations while making manageable payments over a duration of one year.
Qualifying credit approval is required to take advantage of this option but it can provide users with more financial freedom when replacing windows or any window using service.
Being able to spread out the cost into multiple monthly installments ensures that the customer feels comfortable and empowered throughout the process rather than feeling like they have taken on too much debt at once.
This convenient solution also helps ensure regular maintenance without being overly expensive as well since customers just need to budget for smaller monthly bills instead of large lump sum costs.
0% Financing
For homeowners, commercial property owners, real estate investors, and property managers in North Carolina looking to replace their windows without breaking the bank, 0% financing can be a great option.
With promotional interest rates used by businesses throughout the state for window replacement projects, 0% financing offers an easy way to finance your window replacement project with no need of upfront cash payments.
Not only that but it is also designed to provide buyers with flexible payment plans so you can pay off your home improvement project over short or long periods depending on your budget and needs.
And even better – interest free! This makes it easier for those who otherwise wouldn't be able to handle large upfront costs associated with major renovations like replacing all of one's windows.
Another feature of these competitive financing options is that they offer timely updates and improvements in residential properties while being affordable and manageable at the same time.
Affordable Solutions with Low Monthly Payments
When it comes to home improvement projects, financing for windows or doors can often be a daunting task. Fortunately for homeowners in North Carolina, there are several companies that provide access to affordable solutions with low monthly payments.
These competitively priced deals make window replacement more accessible regardless of budget size or credit history. Moreover, these options offer flexible payment plans providing customers the convenience they need in order to save on costing and stay within their budget limits.
How to Apply for Financing for Window Replacement
Contact the window replacement company to find out more about pre-approval, approved credit and financing options available. Learn how you can apply for financing today!
Contacting the Company
It is important to reach out to a company offering financing options for window replacement. This can provide you with detailed information about the different types of available plans, payment terms, interest rates and other factors that should be considered when making a financial decision.
Most companies offering window replacement have customer service lines or contact information where potential customers can explore credit options before signing any agreement. Speak directly with an experienced representative of the company for help understanding all your financing options.
Additionally, online applications are becoming more popular as they offer easy access 24/7 from anywhere in North Carolina without hassle or long waiting periods! There are many benefits to contacting a provider of window replacement services prior to committing such as finding promotions, learning how best to maximize savings and negotiating better terms.
Pre-Approval Process
Pre-approval for a loan is an important step when replacing windows in North Carolina. Pre Approval sets the foundation to work with lenders and get an approving loan decision.
It is different from prequalification, which evaluates a potential buyer's general qualifications for a home mortgage based on debt and credit without verifying documents or employment information.
Contacting the company – Homeowners should identify their own requirements before looking into financing options and contact window replacement companies to discuss all available solutions that meet those needs as well as payment terms and interest rates.
Pre approval Process – This is where documentation such as bank statements, proof of income, tax statuses etc are needed in order to be considered eligible for the loan program they chose . It usually takes approximately three days waiting period after compliance documents are submitted until getting approved or declined by the lender.
Approved Credit & Options – Once preapproved, customers can estimate monthly payments required depending on various variables like term length (number of months), rate of APR%, amount financed, principal balance Deferred Interest Fee etc Single independent developers normally require 6 months no payments with zero percent interest while business owners who rely mostly cash flows benefit from 12/24 month plans with manageable low monthly payments .Making sure to keep good records regularly also helps paying down faster than estimated duration if one requests it during application time put forward by obligator vendor programs specifications
Approved Credit and Options
In order to obtain financing for a window replacement project in North Carolina, one must have an approved credit score. Having an approved credit allows homeowners, real estate investors and commercial property owners to access financing options with lower interest rates and more favorable terms than those without approved credit.
Benefits of Financing Window Replacement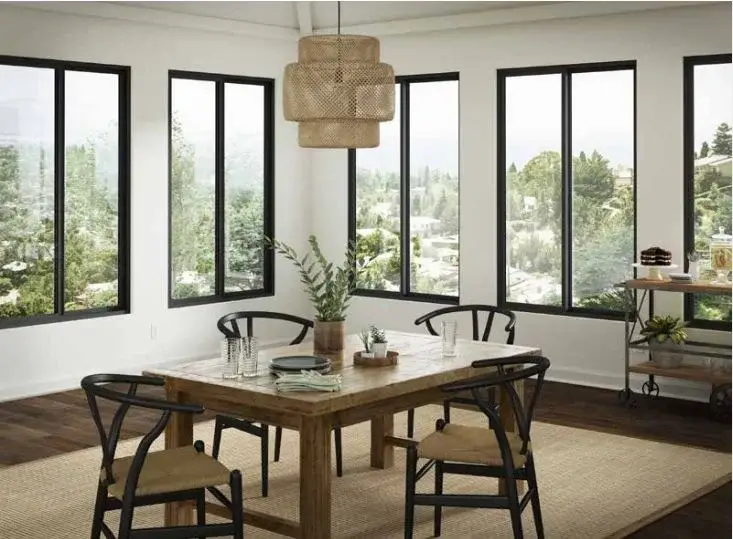 Financing window replacements has several advantages, from convenience and ease to timely updates and improvements, all with affordable and manageable payments.
Convenience and Ease
Financing options for window replacement in North Carolina offer extraordinary convenience to homeowners, property managers, real estate investors, and commercial property owners. Homeowners can enjoy energy savings with efficient windows without putting too much strain on their financial resources.
Depending on the financing option chosen through the various participating companies in Durham NC, payments can be spread over short-term or long-term payment plans with no interest or low-interest rates.
Furthermore, homeowners don't have to wait too long for application approvals as most lenders pre approve applicants within a very short period of time.
By opting for home improvement loans that cover new windows installation and related projects , homeowners not only improve indoor climate but also increase the value of their properties – all at affordable monthly payments.
Timely Updates and Improvements
By upgrading windows and doors, homeowners, property managers and real estate investors can significantly increase the value of their properties as well as improve its energy efficiency.
Window replacement is an effective way to make a home or commercial building more efficient by increasing insulation; thus making it much cooler in the summer and warmer during the winter months which reduces energy costs.
Plus, new windows provide improved functionality thanks to better materials that are used today for framing including aluminum, wood-clad composites and vinyl-frames among many others.
Affordable and Manageable Payments
Financing options can be both convenient and cost-effective for window replacement projects in North Carolina.
Homeowners, property managers, real estate investors, and commercial property owners have the option of spreading the cost over time through financing plans that offer no interest with payments for 12 months or affordable solutions with low monthly payments.
These payment plans make window replacement more accessible by making it easier to budget for improvements on homes, businesses, or other properties. With these flexible options homeowners can enjoy added comfort and energy efficiency while avoiding costly upfront fees.
Additionally, financing offers a way to improve one's home without depleting all their resources at one time.
Conclusion
Financing window replacement in North Carolina has never been easier or more accessible. Homeowners, property managers, real estate investors, and commercial property owners have access to a range of financing options that are convenient and affordable.
These financing plans provide homeowners with timely upgrades and improvements without the burden of having to pay the full costs up front.
With multiple lenders offering no interest and no payments for 6 months, 0% financing programs, Energyefficient loan options through North Carolina Housing Finance Agency ,and much more – there's something to fit almost every budget!
For those who want additional guidance on how best to finance their projects, there is also a Window Financing Checklist available as an added resource.
No matter which option you choose – be sure to hire a professional licensed window contractor in order to select high-quality windows that will save energy over time and last for years to come!